Kids and Teens
Please Note: Read-Around -Town has been moved to Dennis Public Library  due to lack of lighting in the parking lot at the time.  We are sorry for any inconvenience.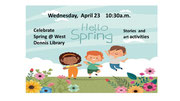 An entire wing of our library is dedicated to young readers.Beginning readers have a space that invites their interaction with a variety of materials...puzzles, tracks and trains,stuffed toys, and of course BOOKS!   Furniture in this space is specifically scaled to their size and needs.  In addition we have a computer specifically for children's use for word processing and games.  Children are welcomed into the wing by the life size figure of Corduroy who is dressed for the season.  The wing is also home to a beautiful collection of Beatrix Potter figurines and our Victorian Dollhouse is just around the corner.  On Tuesdays our children's room is open for Drop-In Story time in the morning.  In the summer we offer the Library Puppies Reading Program.   Separate areas are designated for Chapter Books and YA materials.  These areas are furnished with traditional chairs and tables that encourage reading and study, as well as cooperative activities.  Game nights, movie nights and Teen Book Clubs are popular options.
Anyone who knows the work of Ezra Jack Keats will want to read this touching and very revealing story of his life.  How he created the wonderful character Peter and the difficulties he lived through as a child and adult trying to realize his dream.  A book for all ages, written in verse.  Children will delight in the art work, older children and adults will understand and benefit from the story behind them.  
We had 2 special guests come to story time. Can you find them in the picture?
Rabbits and turtles and snakes...
...oh my!
We recently enjoyed some special visitors from the Thorton Burgess Society Nature Center.  Families got a chance to hear stories about the animals, hold them and and learn about them. They also had an opportunity to look at a variety of items to better understand how animals see, feel and sound.  Thanks  to Mary Beers who accompanied our animal visitors, and her knowledge of animals and children, a great time for everyone!
Beatrix Potter Display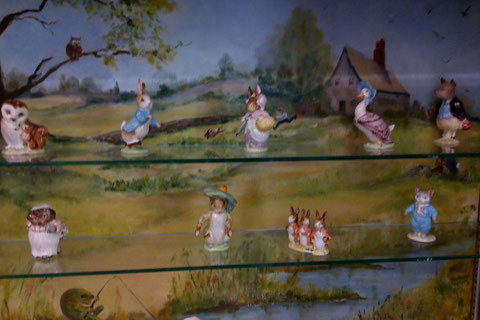 While you're visiting our library this month for all the activities please take the time to visit our Beatrix Potter display in the children's room.  A permanent fixture in the library, this impressive collection was given in memory of Joseph Crowell in 1970.  The background was hand painted to compliment the characters.  We are so happy to bring attention to this unique and cherished display.
Virtual Dollhouse Tour