Welcome to West Dennis Library
Betsy Bray talks of Beatrix Potter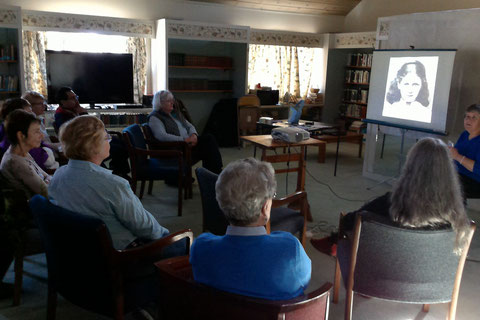 Everyone enjoyed this wonderful presentation on the life and times of Beatrix Potter.  Betsy has so much knowledge to share on this remarkable woman and the life she led, blazing trails for woman, protecting the environment and herding sheep!  A member of and presenter for the Beatrix Potter Society, Betsy shared many personal experiences  about her visits to the various homes of the author and her incredible collection of Potter memorabilia.
Beatrix Potter Display
While you're visiting our library this month for all the activities please take the time to visit our Beatrix Potter display in the children's room.  A permanent fixture in the library, this impressive collection was given in memory of Joseph Crowell in 1970.  The background was hand painted to compliment the characters.  We are so happy to bring attention to this unique and cherished display.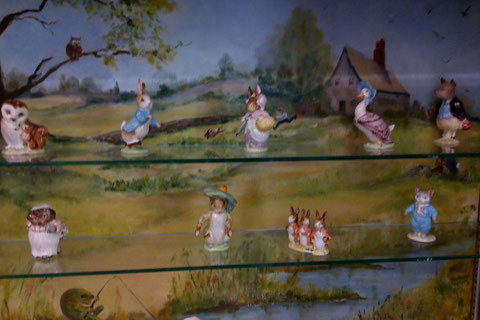 New DVDs Just in...
Commonwealth Catalog
Did you know you can reserve books and media from outside our network ? If you can't find something in CLAMS we can help you find it anywhere in Massachusetts.  The Commonwealth Catalog and all it's materials are available to you.  You can go to Clamsnet.org    and in the upper right hand corner click on the Commonwealth Catalog, or you can click on the icon on the left of this page.  You will be asked to put in the library you want the materials delivered to, your card number and your pin.  Then you put in the title of the item you are looking for.  This must be a item not available in CLAMS. You will see a display of all items available with that title. Just click on the one you want and submit it to be ordered.  We'll take care of the rest! Because these items are coming a distance you get extra time to return them.  We will call you when the item arrives.  That's all there is to it!  
     Check out the Calendar  at  Programs and Events