Welcome to West Dennis Library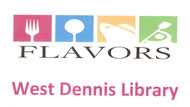 Thank you to everyone who came out to participate in this event. Delicious food, great weather, and  lots of generosity and good will made it a great day for the library and our community!  A special thanks to all who worked on putting it together and making it all happen!
Commonwealth Catalog
Did you know you can reserve books and media from outside our network ? If you can't find something in CLAMS we can help you find it anywhere in Massachusetts.  The Commonwealth Catalog and all it's materials are available to you.  You can go to Clamsnet.org    and in the upper right hand corner click on the Commonwealth Catalog, or you can click on the icon on the left of this page.  You will be asked to put in the library you want the materials delivered to, your card number and your pin.  Then you put in the title of the item you are looking for.  This must be a item not available in CLAMS. You will see a display of all items available with that title. Just click on the one you want and submit it to be ordered.  We'll take care of the rest! Because these items are coming a distance you get extra time to return them.  We will call you when the item arrives.  That's all there is to it!  
     Check out the Calendar  at  Programs and Events