Welcome to West Dennis Library
The Library will be closed on Monday, May 30 in observance of Memorial Day.
TICKETS ARE ON SALE NOW!!!
Please join us for our major fund raiser of the year.  What a  great way to sample foods from local restaurants,  socialize with members of the community and perhaps go home with a raffle item or auction item as well!  All while helping to fund the West Dennis Library!  You can purchase tickets at the library or call the library (508-398-2050) and reserve tickets to be picked up at a later date.  Reserve tickets for yourself or for a whole table.  It's even more fun with a group!   If for some reason you can not attend the event  you still can purchase a ticket or make a donation to show your support. The library depends on the proceeds of this event to enable us to continue to serve our patrons and community.   Thank you for your support. 
Steven P. Marini talks about Schumuel's  Journey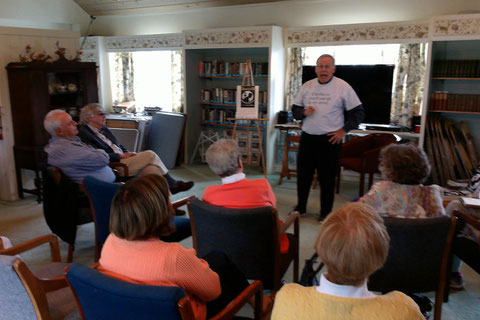 On Sunday, May 22, Steve Marini came to West Dennis Library to discuss his latest book - Schmuel's Journey- set in a small college town in New Hampshire.  Steve read the first chapter and discussed how the book came to be. He talked about the evolution of the book and its characters as well as his evolution as a writer.  This wasn't Steve's first visit to our library and we hope it won't be his last!  Thank you Steve!
MOTHER"S  DAY TEA 2016
The Mother's Day Tea was a great success and we thank everyone who made it possible. Everyone had a great time .
Here's a peak at what it looked like.   
New DVDs Just in...
Commonwealth Catalog
Did you know you can reserve books and media from outside our network ? If you can't find something in CLAMS we can help you find it anywhere in Massachusetts.  The Commonwealth Catalog and all it's materials are available to you.  You can go to Clamsnet.org    and in the upper right hand corner click on the Commonwealth Catalog, or you can click on the icon on the left of this page.  You will be asked to put in the library you want the materials delivered to, your card number and your pin.  Then you put in the title of the item you are looking for.  This must be a item not available in CLAMS. You will see a display of all items available with that title. Just click on the one you want and submit it to be ordered.  We'll take care of the rest! Because these items are coming a distance you get extra time to return them.  We will call you when the item arrives.  That's all there is to it!  
     Check out the Calendar  at  Programs and Events