Welcome to West Dennis Library
Writer's Workshop 2016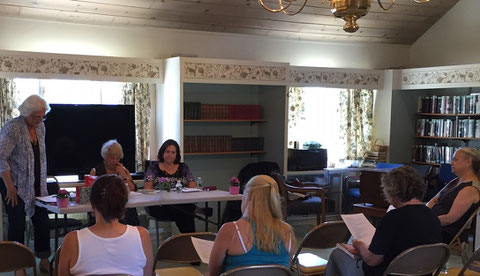 Our 2016 Writer's  Workshop got off to a great start with
Barbara Struna , Yvonne DeSousa, and Anita Caruso discussing sharing with other writers and aspiring writers and the advantages of working with a group like the Cape Cod Writers Center.    These talented ladies generously shared their ideas and experiences and kicked off a great line-up of writers and writing topics and genres. Below find a complete listing of all the workshops, and the next speaker...Kevin Symmons speaking on Romance Novels.  Look for books by our presenters in the window displays at the library available for circulation.
This week:
"Little Libraries by the Sea"
This summer residents of Dennis are enjoying a special extension of our library services with the addition of the "Little Libraries by the Sea". Located at Corporation Beach and West Dennis Beach, the little libraries are found at the food service areas.
(Walk around the building.)
You are invited to take books from the display and then pass them on to a friend.  Books should not be returned. The display will be refilled as needed. Many of the books are paperbacks and so make great beach side reading.
All five libraries are participating in refilling the books which are all labeled with stickers identifying them as part of the Little Libraries Collection.
        Enjoy the summer... Enjoy the beach... Enjoy reading!
     Check out the Calendar  at  Programs and Events