Welcome to West Dennis Library
Summer Author Series...
Next  up: Christopher Setterlund talks about the Historic Restaurants of Cape Cod....Sunday, August 27th at 2 p. m.
                                 This Sunday!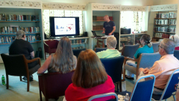 Join Christopher as he reminisces about some of the most popular restaurants on the Cape that are no longer a part of our landscape but are still a part of some of our favorite memories...the Columns, the Christopher Ryder House, the Sword and Shield, Thompson's Clam Bar, and so many more. Take a walk down memory lane or hear about these wonderful places for the first time. Enjoy Christopher's stories and visual displays with us!
                                    Refreshments courtesy of the Friends of the WDL
 Summer Programs for Young Readers
                             Children's Story Hour
Tuesdays 10:30 , stories and crafts. All ages welcome.                                 Come in for a story,  or two!
The Massachusetts Board of Library Commissioners (MBLC) is launching a major study that will impact how they fund and support your local libraries across the state. Please take a few minutes, anytime now through September 8th, to fill out their survey to tell us how you use your public library.

Help us identify what you love, what you need, and how we can make your experience better. If helping your library wasn't enough of an incentive, survey respondents have a chance to win an iPad!
Remember to designate West Dennis Library as your library.  Get started by clicking on MBL Survey title
The Dennis Library System is once again bringing "Little Libraries" to the Beach.  Our hope is that you will stop by the displays, take a book and pass it on to a friend.  The "Little Library" at West Dennis Beach will be open  for use June 24th.
Located at the Snack Bar, be sure to walk to the West Side of the building and "check  it  out!"
New Computer Center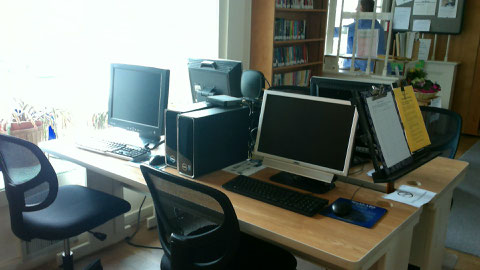 Next time you're at the library please take the time to look at our new computer center for public access.  The new furniture was purchased by the Friends of the West Dennis Library and is being very well received and appreciated by our patrons.  They also have given us some additional free space for traffic flow.
Thank you to everyone who helped with the purchase and installation!
     Check out the Calendar  at  Programs and Events

West Dennis Library 260 Main St. (Rt. 28) 508-398-2050