Welcome to West Dennis Library
We will be CLOSED Monday May 29 for Memorial Day.
Coming up next is the Flavors of Dennis, our biggest fund raiser of the year!   Please be sure to SAVE THE DATE  June 11th.  Sample the foods from local restaurants, take the opportunity to go home with some great  items from our live and silent auction,  
mingle with neighbors and friends at the West Dennis Yacht Club. All proceeds go to the West Dennis Library for programs, materials and maintaining the library.   Tickets are on sale now.                           We'd love to see you there!  
Saturday , May 13th was our Annual Mother's Day Tea.   We want to thank everyone who attended and all the people who helped make it a success...bakers, sandwich makers, pourers and servers, donors and sponsors, and of course our amazing Friends Group who organized and made the whole thing happen.  Thank you for supporting our library.
(for pictures from the event go to the Friends page under Library Information on this web site.)                             
New Computer Center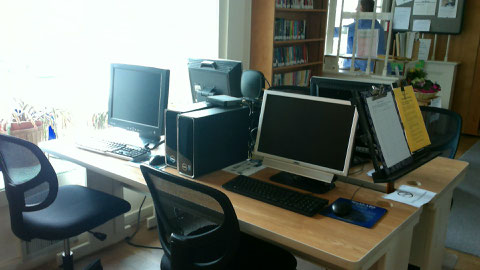 Next time you're at the library please take the time to look at our new computer center for public access.  The new furniture was purchased by the Friends of the West Dennis Library and is being very well received and appreciated by our patrons.  They also have given us some additional free space for traffic flow.
Thank you to everyone who helped with the purchase and installation!
               A Note to  Our Verizon e-mail Patrons
Many of you already or soon will be changing your
e-mail address and /or  your carrier.  Please let us know if you have a new e-mail address so we can stay connected.  We will also need to notify CLAMS if there is a change.
                                     Thank you!
     Check out the Calendar  at  Programs and Events

West Dennis Library 260 Main St. (Rt. 28) 508-398-2050