Welcome to West Dennis Library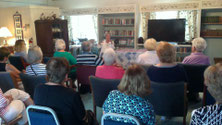 Susan  Santangelo launches her 7th Baby Boomers Mystery Novel...Dieting Can Be Murder...Every Wife Has a Story on Wednesday evening July 12th at 6:30p.m.
Please join us as Susan shares her creative process, her sense of humor, and her joy in her craft.  Books will be available for purchase and signing.
Refreshments provided by the Friends of WDL.
The Dennis Library System is once again bringing "Little Libraries" to the Beach.  Our hope is that you will stop by the displays, take a book and pass it on to a friend.  The "Little Library" at West Dennis Beach will be open  for use June 24th.
Located at the Snack Bar, be sure to walk to the West Side of the building and "check  it  out!"
History brought to life...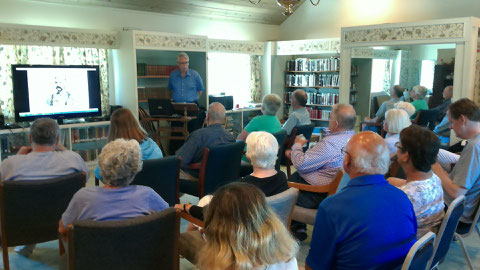 Michael McCarthy did a great job educating our Battle of Five Forks audience about the battle and his new book Confederate Waterloo.  The packed room was attentive, asked lots of questions and enjoyed the Sunday afternoon Author Talk.
The interest was such that we extended an invitation to all to join our newly formed History Book Club and we got 6 new members!  If you're interested in joining stop in the library to sign up or call to be added to the list.  Thank you Mike for sharing your passion and knowledge of HISTORY!
FLAVORS 2017...Thank You!
Thank you to everyone who helped to make FLAVORS 2017 a success!  The Trustees, participating restaurants, donors and sponsors, and of course our wonderful guests.  A good time was had by all!  
New Computer Center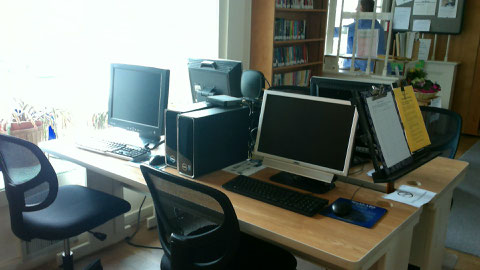 Next time you're at the library please take the time to look at our new computer center for public access.  The new furniture was purchased by the Friends of the West Dennis Library and is being very well received and appreciated by our patrons.  They also have given us some additional free space for traffic flow.
Thank you to everyone who helped with the purchase and installation!
     Check out the Calendar  at  Programs and Events

West Dennis Library 260 Main St. (Rt. 28) 508-398-2050