Welcome to West Dennis Library
West Dennis Library  will be
CLOSED FRIDAYS
February and March.
The Trustees of the West Dennis Library have voted to close on Fridays throughout the months of February and March.
The new hours will take effect February 2nd, 2018.
We sincerely hope this will not inconvenience our patrons.
If you have any concerns or questions do not hesitate to call us. 
Read Around Town
with Principal Depin, Ezra Baker Innovative School
On Wednesday evening, February 7th, children and their families enjoyed an evening of stories read by Kevin Depin, Principal of Ezra Baker Innovative School.  Mr. Depin traveled to the Dennis Libraries to read and acquaint the children and their families to the libraries and their various resources. It was a great evening for all of us!  Thank you Mr. Depin.  We always look forward to seeing you!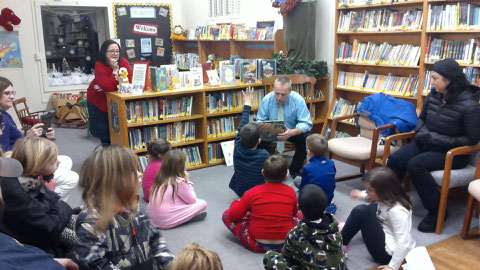 New Events and Activities
"Drop-In Fun" to "Just Relax"
set up for those who might like to just stop in and relax on a cold winter's day!  These will be available on a "Drop-in" Basis and require no commitment or scheduling.
New Health Series...
Pre-Diabetic Diet and Life Style Management (Part 1)
and
Carb Management in Your Diet  (Part 2)
Both of these presentations are being conducted by Linda B. Teuwen, certified Medical Nutrition Therapist.  Linda prefers working with small groups and at this time the first session is full.   Please contact us if this is an area of interest for you in case of cancellations or for future additional  programs.
Call 508-398-2050 to be placed on a list for future events. 
Favorite activities continue...

Many of your favorite activities continue for the winter...
3 Amazing Book Clubs...
History Book Club meets the 2nd Monday of the month (10:30 a.m.)
Mystery Book Club  meets the 1st Wednesday of the month (2 p.m.)
 Original Book Club meets the 3rd Wednesday of the month (2 p.m.)  
Beginner's Bridge
Friday Mornings at 10:15
Yoga
Wednesday mornings at 10:00
Knitting

January 1st the Dennis Town ban on one use plastic bags went into effect.  That means that many of you using plastic bags from the grocery store will have to find a replacement for carrying library materials and other items.  In an effort to protect our borrowed materials and make this transition easier for you, the Dennis Library System has purchased reusable Book Bags with our logo on them.  The bags are attractive, sturdy and available at all libraries in town for $1.
     Check out the Calendar  at  Programs and Events

West Dennis Library 260 Main St. (Rt. 28) 508-398-2050