Programs and Events
RECENT PROGRAMS YOU MIGHT HAVE MISSED....
Steven P. Marini talks about Schmuel's  Journey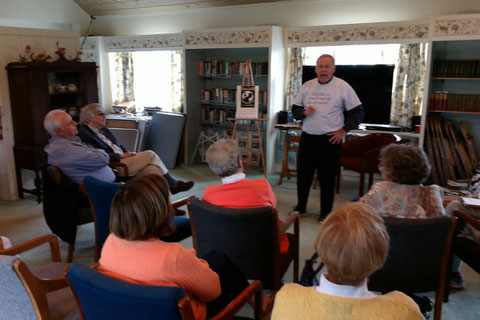 On Sunday, May 22, Steve Marini came to West Dennis Library to discuss his latest book - Schmuel's Journey- set in a small college town in New Hampshire.  Steve read the first chapter and discussed how the book came to be. He talked about the evolution of the book and its characters as well as his evolution as a writer.  This wasn't Steve's first visit to our library and we hope it won't be his last!  Thank you Steve!
Betsy Bray talks of Beatrix Potter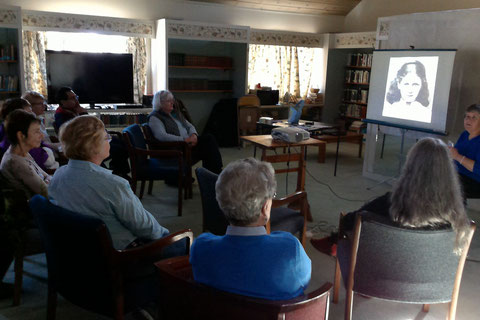 Everyone enjoyed this wonderful presentation on the life and times of Beatrix Potter.  Betsy has so much knowledge to share on this remarkable woman and the life she led, blazing trails for woman, protecting the environment and herding sheep!  A member of and presenter for the Beatrix Potter Society, Betsy shared many personal experiences  about her visits to the various homes of the author and her incredible collection of Potter memorabilia.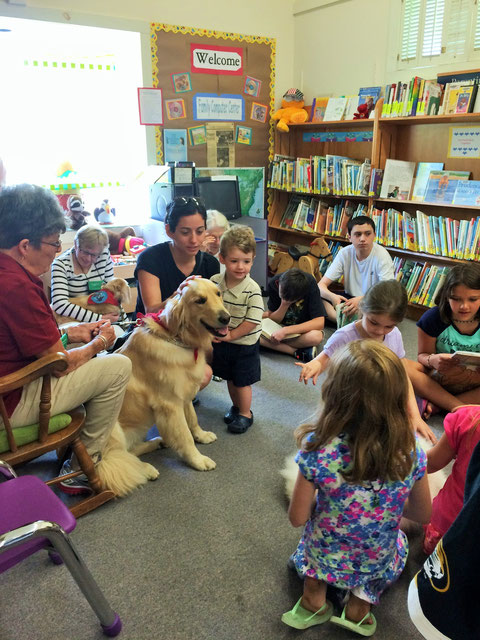 The Library Puppies are back and boy did they get a rousing welcome!  Our first summer visit included 8 puppies and over 40 children and adults.   The puppies will be with us on alternate Thursdays throughout the summer...July 23,   and August 13 and 27th...10:30-11:30. Please call to reserve a spot!
What to Wear????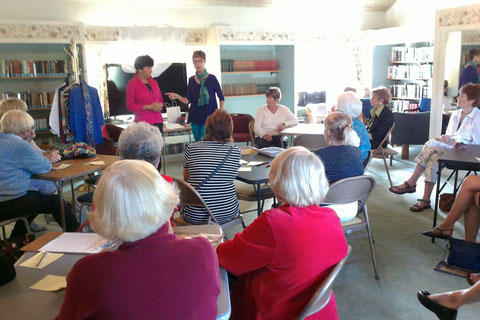 We were fortunate to have Fashion Adviser Kathleen Sullivan back for a second  fun workshop on wardrobe essentials and fashion and accessory hints to suit your individual type.  This was a fun, interactive event and the capacity audience  walked away with new ideas and information! The event was sponsored by the Friends of WDL and our thanks go out to Kathy and the Friends for a great afternoon!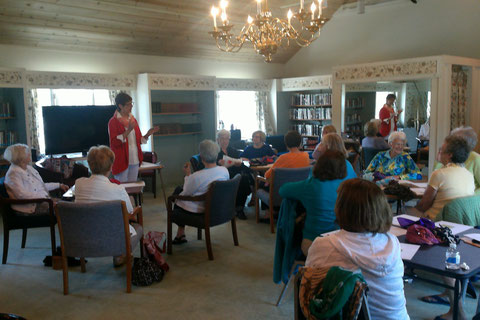 Julie Lipkin presented one of our most popular  programs of the year entitled Writing  Life Stories.  Due to the popularity of the topic we scheduled a second session to accomodate all those we initially had to turn away. Thank you to everyone who participated, and those of you who have yet to do so.  A special thanks to Julie who was gracious enough to accomodate all those interested in what she had to share.
Barbara Eppich Struna talked about her historic novel The Old Cape House and delighted us with her stories and her treats!
Storyteller Janet Glantz entertained the whole family with her stories of "Critters and Creatures Great and Small".
Yvonne De Sousa shared her book MS Madness and her experiences dealing with Multiple Sclerosis with humor instead of anger.  A life lesson for everyone.
Technology...Bridge and Quilting....oh my!