Programs and Events
Click on Calendar for complete listing of scheduled events
Ninety Days Without You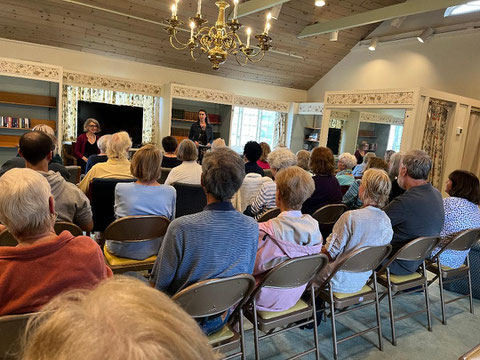 Most recently we enjoyed hearing from Author Jennifer Woodward who spoke to a capacity audience about her new novel, Ninety Days Without You. This dark, funny, and heartbreaking tale explores relationships, addiction, mental health, family - and the essential journey of knowing and loving yourself. Jennifer has an MFA in Acting fromColumbia University and has worked as a theatre actor, scriptwriter, and voiceactor. She currently lives in London.
Everyone enjoyed her readings from the book, participating in sharing thoughts and purchasing autographed copies. Thank you Jennifer, well done!
Community Christmas 2022
Flavors 2019
Mother's Day Tea 2019
West Dennis Holiday Stroll 2018
Local Authors Share their Books
Two local authors....Alan Rothman, "the Metal Detective" and Susan Santangelo who just came out with her latest Baby Boomer Mystery...In-Laws Can Be Murder visited us .  Both  spoke to fully engaged audiences  who were happy to share the authors joy and enthusiasm for their subjects.  Their sense of humor and relaxed style were entertaining and  easy to relate to.   How fortunate we are to have so many talented and creative people in our midst.  
FLAVORS 2018
"Thoreau-ly" Enjoyable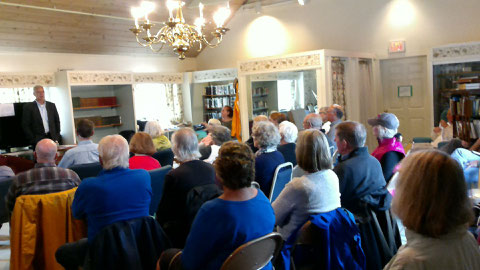 Dr. Michael Thurston spoke to a capacity filled room , sharing his expertise on Thoreau, literature and the English language. 
The audience was charmed by his enthusiasm, wide range of knowledge and his sense of humor. Lots of questions were asked and logs of anecdotes shared.  It was a "thoreau-ly "
enjoyable way to spend an afternoon.  Dr. Thurston is a
Professor and Chairman of the English Dept. at Smith College.
His presentation was the culmination of the Dennis Libraries celebration of Henry David Thoreau's 200th birthday and the first co-sponsored with the Yarmouth Libraries.
OUR SUMMER AUTHOR SERIES... 2017
featuring local authors from West Dennis and Cape Cod
Christopher Setterlund talked about the Historic                                                Restaurants of Cape Cod....
Christopher Setterlund reminisced about some of the most popular restaurants on the Cape that are no longer a part of our landscape but are still a part of some of our favorite memories...the Columns, the Christopher Ryder House, the Sword and Shield, Thompson's Clam Bar, and so many more. We took a  walk down memory lane to hear about these wonderful places, enjoying Christopher's stories and visual displays.
Thanks Christopher for a fun afternoon that  we all
enjoyed!  What a great way to conclude our Summer Author Series!
 Cape Cod author Elizabeth Moisan shared readings from her fictionalized book on the Whydah...Master of the Sweet Trade...a story of the pirate Samuel Bellamy, Maria Hallett and the Whydah. Our Summer Author series continues on August 27th with Christopher  Sutterland reminiscing about restaurants of Cape Cod that are no longer on site but are forever in our memories.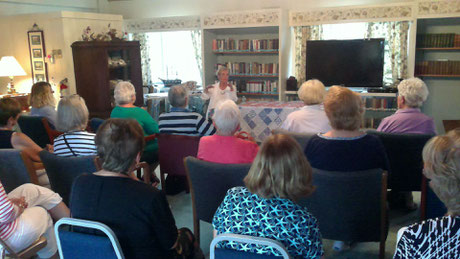 Susan  Santangelo launched her 7th Baby Boomers Mystery Novel...Dieting Can Be Murder...Every Wife Has a Story on Wednesday evening July 12th at 6:30p.m.  As always, her talk was entertaining and informative and the full house was a 
testament to her popularity.  This was the second in our Summer Author Series .  
Refreshments provided by the Friends of WDL.
History brought to life...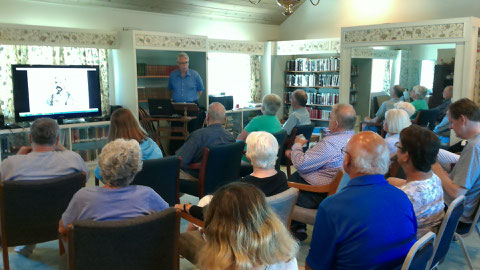 Michael McCarthy did a great job educating our Battle of Five Forks audience about the battle and his new book Confederate Waterloo.  The packed room was attentive, asked lots of questions and enjoyed the Sunday afternoon Author Talk.
The interest was such that we extended an invitation to all to join our newly formed History Book Club and we got 6 new members! If you're interested in joining stop in the library to sign up or call to be added to the list.  Thank you Mike for sharing your passion and knowledge of HISTORY!
Creating a Bird Refuge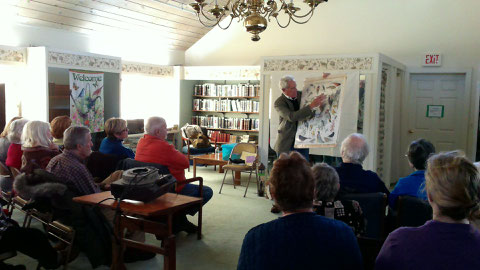 Phil Kyle, contributing editor to the Cape Cod Times, spoke at the library about how to create a bird refuge in your yard.  Armed with slides, bird carvings he had done himself, charts and samples of various feeders and bird houses ...Kyle kept the packed room at full attention for the entire presentation.  After a break for refreshments everyone returned to their seats for a Q&A session.  It was a very informative as well as entertaining afternoon and we all learned a great deal.                 3/12/2017
Writer's Workshop 2016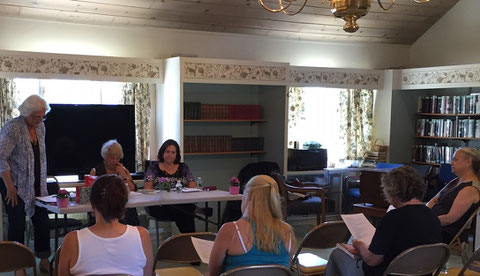 Our 2016 Writer's  Workshop got off to a great start with
Barbara Struna , Yvonne DeSousa, and Anita Caruso discussing sharing with other writers and aspiring writers and the advantages of working with a group like the Cape Cod Writers Center.    These talented ladies generously shared their ideas and experiences and kicked off a great line-up of writers and writing topics and genres. The series ended with a panel from Sisters in Crime, authors Sharon Healy-Yang, Coralee Jensen, Steve Marini and Susan Santangelo who tried to take the mystery out of writing a mystery novel.  This was a very successful series and covered so many genres of the writing field...children's books, non-fiction,Romance novels and magazine writing.  Thank you to all the presenters and attendees!  Look for books by our presenters in the window displays at the library available for circulation.  And, let us know what topics or workshops you'd like to see next year!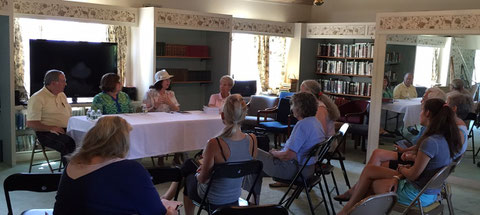 Guest Author Judith Manchester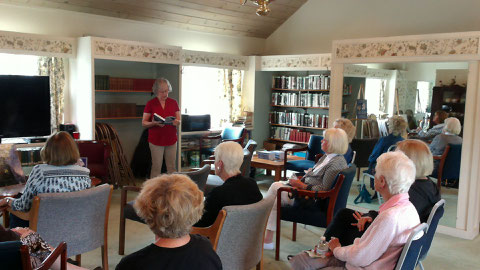 Sunday, July 10th, Cape Cod author  Judith Manchester spoke on the "Seed to the Story"...the background to the writing of her first novel Sisters of the Stone.  The book has gotten a great reception, particularly here on the Cape as  it takes place in an area inspired by the areas of Wellfleet and Eastham.   The audience enjoyed hearing about the inspiration for the story, the author's research to make it historically accurate, and her publishing journey.  Judith also read excerpts from the book to perk our curiosity.  A  Q&A  session followed.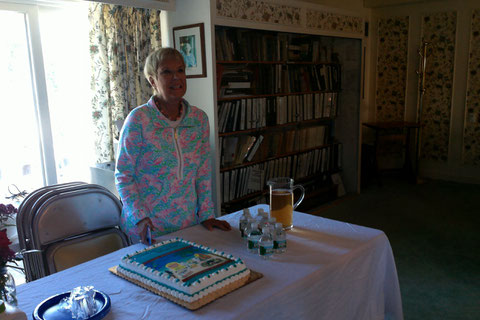 Susan Santangelo
Susan Santangelo returned to West Dennis Library and talked to us about her newest Baby Boomer Mystery -  Second Honeymoons Can Be Murder.  Always engaging and entertaining, Susan delighted her audience with anecdotes about where her ideas come from ( watch what you say in her company!) and the creative process involved. She took questions from the audience, signed books and got everyone involved in the dialog. What a fun way to spend a Sunday afternoon!  Thank you Susan!                                       6/26/16
Steven P. Marini talks about Schmuel's  Journey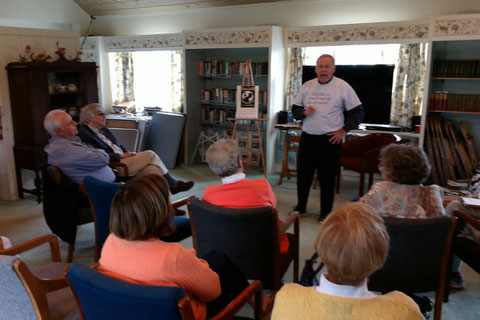 On Sunday, May 22, Steve Marini came to West Dennis Library to discuss his latest book - Schmuel's Journey- set in a small college town in New Hampshire.  Steve read the first chapter and discussed how the book came to be. He talked about the evolution of the book and its characters as well as his evolution as a writer.  This wasn't Steve's first visit to our library and we hope it won't be his last!  Thank you Steve!
Betsy Bray talks of Beatrix Potter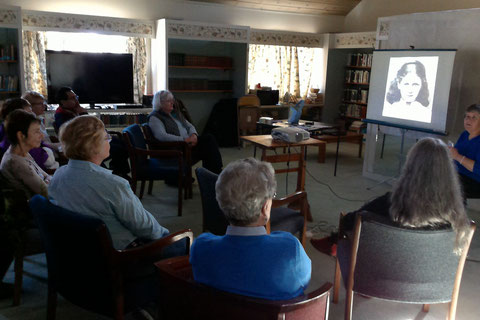 Everyone enjoyed this wonderful presentation on the life and times of Beatrix Potter.  Betsy has so much knowledge to share on this remarkable woman and the life she led, blazing trails for woman, protecting the environment and herding sheep!  A member of and presenter for the Beatrix Potter Society, Betsy shared many personal experiences  about her visits to the various homes of the author and her incredible collection of Potter memorabilia.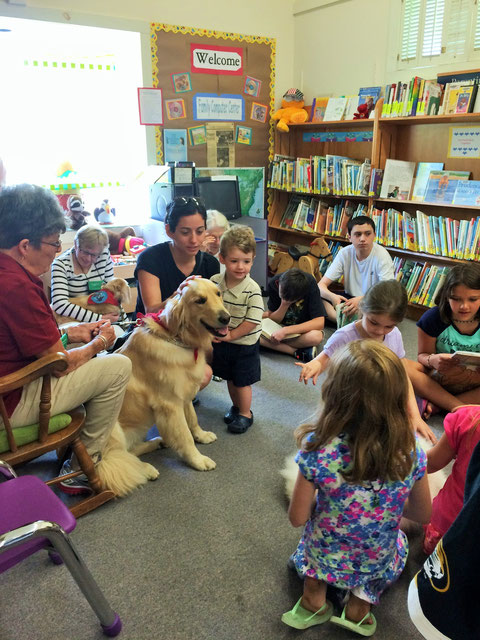 The Library Puppies are back and boy did they get a rousing welcome!  Our first summer visit included 8 puppies and over 40 children and adults.   The puppies will be with us on alternate Thursdays throughout the summer...July 23,   and August 13 and 27th...10:30-11:30. Please call to reserve a spot!
What to Wear????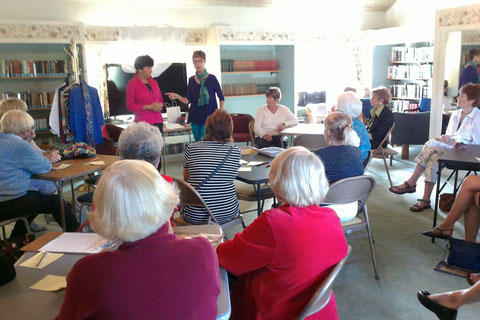 We were fortunate to have Fashion Adviser Kathleen Sullivan back for a second  fun workshop on wardrobe essentials and fashion and accessory hints to suit your individual type.  This was a fun, interactive event and the capacity audience  walked away with new ideas and information! The event was sponsored by the Friends of WDL and our thanks go out to Kathy and the Friends for a great afternoon!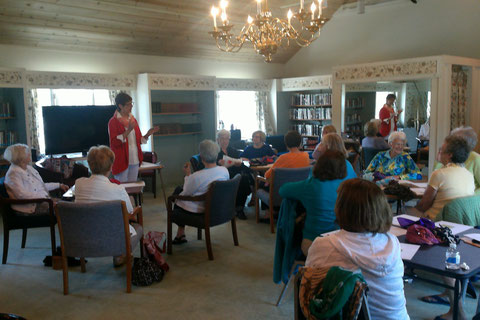 Julie Lipkin presented one of our most popular  programs of the year entitled Writing  Life Stories.  Due to the popularity of the topic we scheduled a second session to accomodate all those we initially had to turn away. Thank you to everyone who participated, and those of you who have yet to do so.  A special thanks to Julie who was gracious enough to accomodate all those interested in what she had to share.