Library History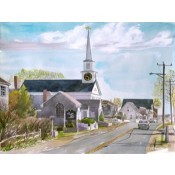 Established in 1920, the West Dennis Library has provided over 90 years of service to the Dennis Community. Initially operating out of a private home, the West Dennis Library Association built a small one-room structure on Rt. 28 in 1924. Expanded in 1961, the library saw its biggest change come in 2003 when it bought the former Ruth Lee Dress Shop next door and tripled its usable space.
Still warm and inviting, the new building provides more of everything… more parking, more reading room, more materials, and is handicap accessible. The second floor offers room for programs, exhibits, and public meeting space.
Since the move, the West Dennis Library has grown in every way. Our size, inventory, circulation and patronage have all increased. September of 2004 we expanded our daily hours, and in February of 2009 added Sunday hours to expand our services even further.
Historically, 4 of the villages within the town of Dennis have had their own separate "Village Library". In the late 1990s there was a movement in town to build one new large central town library. This concept failed at town meeting because our citizens wisely recognized that our small village library system was a gem, providing an important part of the quality of life for our town. Many grassroots community projects have come from small gatherings of library patrons who are well aware that our local village libraries offer much more to our residents than just books. These small libraries are a wonderful place for people to meet and exchange news and information. Instead a fifth "village" library was constructed in Dennisport which is fully funded by the town.
Because we are a private library we are only partially funded by the town. In order to fund our expenses we conduct many special fund raising events such as our Annual Mother's Day Tea sponsored by the Friends and the Flavors of Dennis in June sponsored by the Trustees. We encourage purchases of memorial or commemorative bricks for the patio, donations to honor special events, to support specific services, and to purchase equipment or materials. Our Annual Campaign to raise money through donations is in late November/early December. If you would like to support the library in this way, please make checks payable to the West Dennis Library and mail them to:
PO Box 158, West Dennis MA. 02670
For a modest $15 membership fee you can join the West Dennis Library Association ($30 for a family) and participate in general meetings and decision making. For more information please call the library or send a check to the address above.
Our library depends on volunteers who provide for our patrons in various roles…at the desk, behind the scenes, maintaining the grounds, decorating for the seasons, manning our events and acting as ambassadors in the community. In recent years we have averaged over 10,000 hours of volunteer service each year! Please let us know if you are interested in volunteering, have an interest to share or would like to help with a committee.