Shirley Barron
Interim Director
SBarron@clamsnet.org
Belva Dudac,
Library Staff/Cataloger
den_w_mail@clamsnet.org
Lucy Winslow
Library Staff
den_w_mail@clamsnet.org
Joyce Oppen,
Volunteer Coordinator
den_w_mail@clamsnet.org
Andrea Kuehn,
Seasonal Library Staff
den_w_mail@clamsnet.org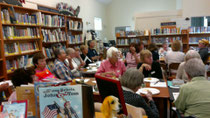 Our Volunteers: 
Jo-Ann Angelo,  Anne Burg, Alice Callahan,Sally Campbell, Harle Carlsen, Terri Clarke, Noreen Couture, Nancy Curley,  Cathy Daley, Susan Daniliuk, Doris David, Mike Delpapa,  Karen Donahue, Tom Donahue, Pat Doyle, Jim  Dudac, Eileen Eastman, Ellen Evans, Jamie Forster, Ginny Gifford,Eileen Griffin,  Rachel Humphrey,  Fran Johnson, Denise King, Jim Long,Rosalie Loughran, Christine Low, Jane Manteiga, Kathie Maguire, Barbara Murphy, Carole O'Connell, Susan Owens, Joyce Phillips, Carol Powers, John Richards, Karen Sherman, Gail Speca, Bruce Speca, Marge Springer, Pat Stone, Ruth Tobin, Lucy Winslow, and all  those  who help out with numerous events and projects throughout the year.
ATTENTION VOLUNTEERS:  Thursday, June 29th at 1:30.
Please save this date  for our next Volunteer Workshop.
Thanking our volunteers....
Thank you to all the volunteers who help to make our library function...desk volunteers, shelf readers, grounds keepers, tech support, dump runners, lightbulb changers, repair workers, bakers, fund raisers, program planners, donators... the list goes on and on and we appreciate each and every one of you!  You make West Dennis Library what it is!
                                 WELL DONE!!
Staff Training
Thanks to everyone who came to the staff training for Sierra.  Although changes are not drastic, the look is new and the presentation of options a bit different. This was an opportunity to get familiar with the program before you were actually using it with patrons.  If you didn't make the meeting please feel free to drop in to look at the format before you actually need to use it. As  always if you have any questions, ask a staff member to assist you.  Here are a few photos to enjoy:
Interested in Volunteering at West Dennis? Fill out the form below and our volunteer coordinator will contact you