Hollin Elizabeth Pagos
Library Director
hpagos@clamsnet.org
Belva Dudac
Library Assistant/Cataloger
bdudac@clamsnet.org
Susan Owens
Library Staff
den_w_mail@clamsnet.org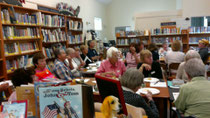 Our Volunteers: 
Jo-Ann Angelo,  Alice Callahan, Terri Clarke, Noreen Couture,  Cathy Daley,   Karen Donahue, Tom Donahue, Jim  Dudac, Eileen Eastman, Ellen Evans, Jamie Forster, Ginny Gifford, Eileen Griffin,   Fran Johnson, Denise King, Jim Long, Rosalie Loughran,  Jane Manteiga, Kathie Maguire, Pat Merkella, Barbara Murphy, Carole O'Connell, Susan Owens, Averie Peterson, Joyce Phillips, Carol Powers, John Richards, Karen Sherman, Gail Speca, Bruce Speca, Marge Springer, Pat Stone, Jeanne Vernazza, and all  those  who help out with numerous events and projects throughout the year.
Thanking our volunteers....
Thank you to all the volunteers who help to make our library function...desk volunteers, shelf readers, grounds keepers, tech support, dump runners, light bulb changers, repair workers, bakers, fund raisers, program planners, donators... the list goes on and on and we appreciate each and every one of you!  You make West Dennis Library what it is!
Interested in Volunteering at West Dennis? Fill out the form below and our volunteer coordinator will contact you