Board of Trustees
Sara Ferris– President 
Karen Sherman - Vice-President
Kathie Maguire - Recoding/Corresponding Secretary
Nancy Curley– Membership
John Richards - Treasurer
Rosalie Loughran - Asst. Treasurer 
Rick Ward – Building and Grounds
Lisa Cormier-  Fund Raising
Arthur Crooks - Member at Large
                                   _______________
The Board generally meets the 4th Monday of the month at 3:30 pm at the library.  Check the library Calendar of events for confirmation.
Volunteer Appreciation
April is National Volunteer Appreciation Month and the Trustees of West Dennis Library take this opportunity to thank all the volunteers who help keep our library functioning.  Most of our needs are met by volunteers..the front desk, shelving, the Trustees and Friends, lawn care, programs, classes, seasonal decorations and displays ...the list goes on and on.  Please take the time to thank our volunteers and show your appreciation.
Wine in Winter
Thanks to all who participated in our Winter Fund Raiser.
Everyone had a great evening thanks to Cape Cod Package Store and Jennifer Louhgran.  The wine was delicious as we went on" a trip around the world" tasting wines and munching on delicious treats provided by the Trustees.  And that was just the beginning...
FLAVORS OF DENNIS 2017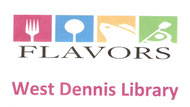 Thank you to everyone who came out to participate in this event. Delicious food, great weather, and  lots of generosity and good will made it a great day for the library and our community!  A special thanks to all who worked on putting it together and making it all happen!
The Board of Trustees sends out an annual letter soliciting funds for the library. If you did not receive a mailing and would like to respond to this drive please pick up a form at the library,  or refer to the campaign page in this section.  If you would like to be on our mailing list, please sign-up at the library or e-mail us so that we can contact you.  Your support is greatly appreciated.
Find out about becoming a trustee . . .fill out the form below for more information